1 Comment
Written by Jeff on December 10, 2011 – 2:09 pm
Posted to » News, Videos
Make sure you check out the cover of Bob Dylan's 'Ring Them Bells" by Natasha Bedingfield for a new tribute album. The album, Chimes Of Freedom, honors 50 years of Amnesty International. All proceeds from the album support Amensty's fight for human rights! You can pre-order the album here.
Ring Them Bells
Ring them bells, ye heathen
From the city that dreams
Ring them bells from the sanctuaries
'Cross the valleys and streams
For they're deep and they're wide
And the world's on its side
And time is running backwards
And so is the bride
Ring them bells St. Peter
Where the four winds blow
Ring them bells with an iron hand
So the people will know
Oh it's rush hour now
On the wheel and the plow
And the sun is going down
Upon the sacred cow
Ring them bells Sweet Martha
For the poor man's son
Ring them bells so the world will know
That God is one
Oh the shepherd is asleep
Where the willows weep
And the mountains are filled
With lost sheep
Ring them bells for the blind and the deaf
Ring them bells for all of us who are left
Ring them bells for the chosen few
Who will judge the many when the game is through
Ring them bells, for the time that flies
For the child that cries
When innocence dies
Ring them bells St. Catherine
From the top of the room
Ring them from the fortress
For the lilies that bloom
Oh the lines are long
And the fighting is strong
And they're breaking down the distance
Between right and wrong

No Comments
Written by Jeff on December 10, 2011 – 2:00 pm
Posted to » Interviews
Bedingfield sounds flawless as she shares vocals with Colon, providing the perfect balance to his impeccably soulful delivery. It's an appropriate follow-up to her most recent fantastic studio album, Strip Me, and it illuminates what a powerhouse singer she is.
Natasha Bedingfield spoke to ARTISTdirect.com editor in chief and Dolor author Rick Florino in this exclusive interview about "As Long As We Got Love" and more…
What spoke to you about "As Long As We Got Love"?
It's quite a realistic and relatable love story, and that's what spoke to me about the song. When you know someone for a while so well, it's easy to take them for granted. Life can be hard at times and full of responsibilities, but having love in the midst of all of that is what helps us get through it all, having each other helps us know what life's about.
Were you a fan of Javier? When did you first hear him?
I am a fan! His voice is amazing. I saw him on The Voice, and he really impressed me.
Was there instant chemistry in the studio?
We actually didn't meet in the studio! Due to our schedules and where we both live, it wasn't possible to be in the studio at the same time and in the same place! We had met before this, but we met again on the set for filming the video. It's always fun being around Javier and how he just bursts into song! We sang his songs, my songs and even some Disney [Laughs].
What does the song mean to you?

This song to me is all about the journey that love takes us on—it's not just about the here and now, but about how those moments become the story of you and your other half. And how something can grow from simple hopes and dreams to becoming real—as long as we have love!
Would you want to collaborate again?
Javier is a lot of fun to be with and so talented. I would love to collaborate again if the opportunity arose.
Source: Artistdirect.com

No Comments
Written by Jeff on December 3, 2011 – 9:25 pm
Posted to » Interviews, News
Singer Natasha Bedingfield has recorded her Christmas single in six languages to ensure it is a global success.
Natasha, 30, flew into London last week from America to headline a concert for her mother Molly's charity, Global Angels.
'I've been missing Mars bars but being in America has been amazing,' Natasha told me.
'I've recorded the single, Shake Up Christmas, in six languages and worked with dialect coaches.
'Singing in Swahili and Filipino were the most challenging but I loved every minute.'
Source: DailyMail

No Comments
Written by Jeff on December 2, 2011 – 4:36 pm
Posted to » News
Hey guys, we're doing a exclusive coverage of Global Angels Concert in London. Check it out: www.natashafan.com/globalangels.
Live stream, images and more.

No Comments
Written by Jeff on December 2, 2011 – 4:35 pm
Posted to » Gallery
I just added some images of Natasha attending the 2001 UNICEF Snowflake Ball. Check it out:
● 11/29/11 – 2011 UNICEF Snowflake Ball

No Comments
Written by Jeff on November 26, 2011 – 5:37 pm
Posted to » Videos
Happy birthday, Natasha Bedingfield. We love you so much!! Thanks for change our lives with your songs, i hope you have an amazing year.
Happy Birthday and many happy returns of the day.
Check it out the video of fans around the world wishing you a happy birthday. I hope you like it.
EDIT: YAY! Natasha watched the video. Check it out!!


No Comments
Written by Jeff on November 26, 2011 – 5:36 pm
Posted to » Interviews, News
Pop singer Natasha Bedingfield says her favorite holiday memory nearly didn't happen because she was busy watching TV.
The UK-born singer, who has often spent Christmas with her family in the summery climate of New Zealand, says in a video released Saturday as part of a Coca-Cola campaign that it was her mother who anticipated how much she would cherish the memory-to-be, if she only listened.
"It was actually sunny outside and then it started to rain and my mom told us to put on our swimming costumes and go run outside in the rain. And I thought she was crazy. I thought it was so embarrassing. I'm like no, I'm watching TV I don't want to go outside. She's like no, this is going to be a memory that you'll remember for the rest of your life. Go out and do it," she recalls.
"And it honestly was this incredible feeling. This exhilarating, you know, just dancing in the rain. [It] was just on my doorstep and I wanted to stay inside and watch TV. I just needed a bit of a nudge and got out there. Christmas is like you put everything aside and you come together and you make memories."
Bedingfield's New Recording
Bedingfield says a song which she has recorded in time for Christmas as part of a Coca-Cola global campaign touches on both the joyful and complicated experience of spending time together with family.
The song is called "Shake Up Christmas," a tune recorded last year by the band Train.
"It's a holiday song. It's all about those moments when you're spending your time with your family and you're having the best times of your life. And it's quite funny because that's when it gets sticky and messy and complicated but I feel like the song is about how in those times, in those moments is when you find the greatest joy as well," Bedingfield said.
The singer, who says one of her favorite traditions when gathering is to sing holiday songs, says it's "really meaningful" to perform a song that friends and families everywhere can enjoy together.
Recording Experience
Bedingfield said she was "having a blast" working with Butch Walker, the producer of the song.
Walker – who calls himself a fan of the singer – says together they put their "own little spin" on the "Christmas ditty" which was created in conjunction with marketing firm Devian Ventures.
"We sprinkled it with lots of Bedingfield," Walker said.
Bedingfield says Walker's studio has a "funky, fun vibe."
"We've been layering up lots of vocals, lots of harmonies … kind of crisscrossing their way," she added.
"I guess it represents what the song is about. It's not all about being neat and tidy. It's about soul. It's about waking up the happiness inside you."
The song is part of a wider campaign on TV, the web, mobile phones, stores and packaging. It shows how people caught up in their daily lives are brought together by a song.
Bedingfield's single is available on iTunes. A version of the song that combines all six-languages the language was recorded in by Bedingfield will be made available – at a yet unspecified time – for free at facebook.com/cocacola.
Source: Medicaldaily.com

No Comments
Written by Jeff on November 23, 2011 – 10:02 pm
Posted to » News
Details for Chimes of Freedom, a 72-song tribute album to the great Bob Dylan befitting Amnesty International, were revealed today in all its sprawling, multi-genre glory. Not only are 24B faves such as Patti Smith, My Morning Jacket, Elvis Costello, and Jeff Beck included, but a host of pop stars — ranging from the likes of Adele and Natasha Bedingfield to Ke$ha and Miley Cyrus — have recorded cover songs from the poet laureate of rock's incredible oeuvre.
We'll have to wait until January 24 to hear most of these surprising cuts (a number of them have been previously released or previewed live), but in the meantime, soak in what might just be the most epic 4-disc tribute collection ever below: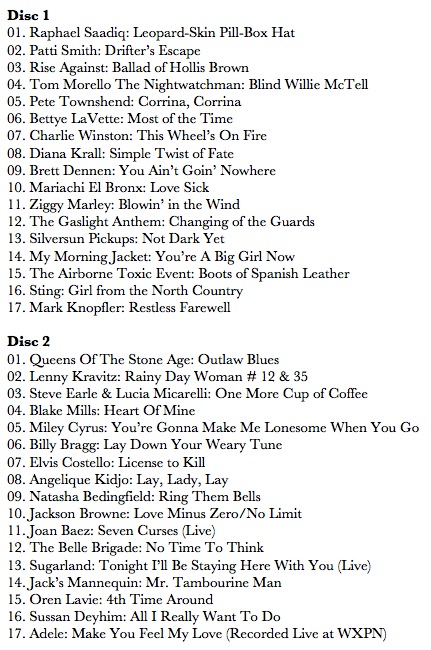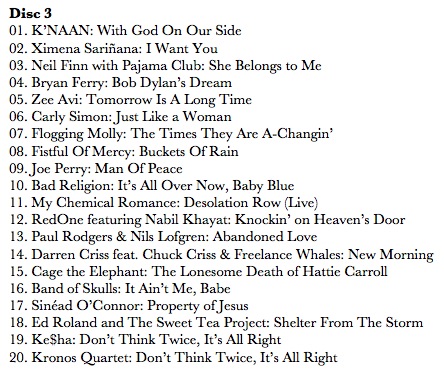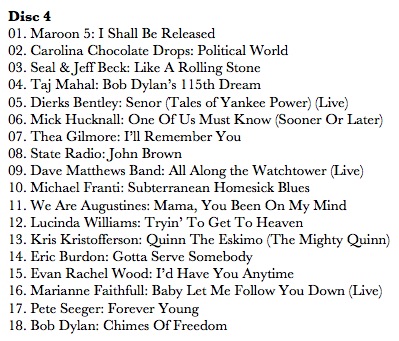 Credits: News.twentyfourbit.com

No Comments
Written by Jeff on November 21, 2011 – 10:23 pm
Posted to » News, Videos
Added images and video of Natasha singin' with Rascal Flatts on NBC's Today Show.

No Comments
Written by Jeff on November 21, 2011 – 10:19 pm
Posted to » Gallery
Hey guys, i just added images of Natasha attending an evening with Leona Lewis and friends benefiting Hopefield Animal Sanctuary on November 19, 2011 in Beverly Hills, California. Check it out:
● 11/19/11 – Leona Lewis And Friends Benefiting Hopefield Animal Sanctuary